Messages are easier to grasp when they are part of a consistent, integrated, and strategic communications plan. This framework — our "message house" — offers all Georgia Tech units a set of pillars to guide content planning and creation.
Communicating effectively and cohesively:
Enables the strategy.
Engages the community by giving them "reason to believe."
Drives awareness of the Georgia Tech brand among key stakeholders.
Lessens the impact of an issue or crisis.
Brings the purpose and culture of the Institute to life in an authentic way.
Builds, enhances, and protects the Institute's reputation.
 
Message House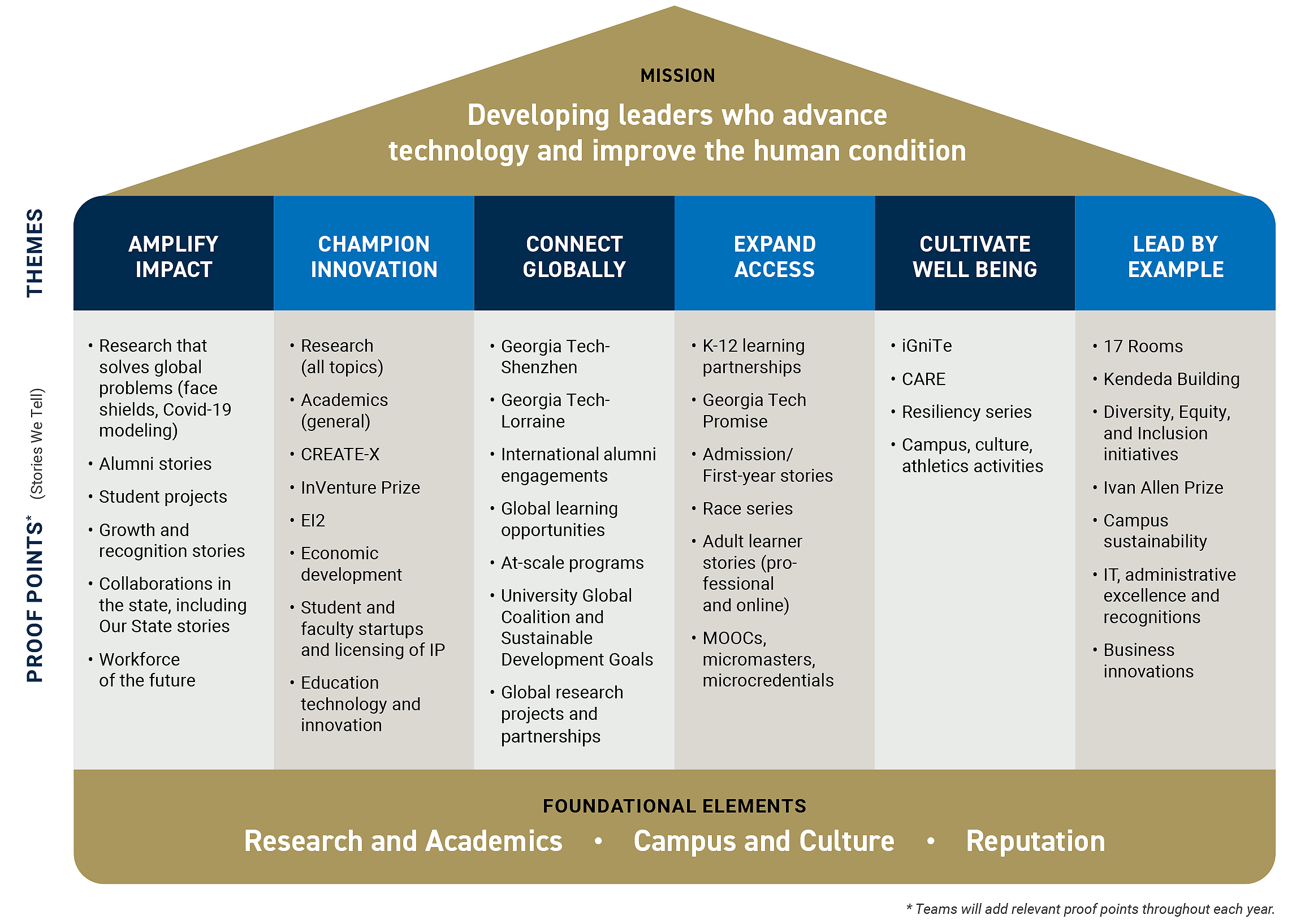 Narrative and Key Messages

Georgia Tech is a leading technological research university, breaking new ground in addressing the biggest local, national, and global challenges of our time, and developing exceptional leaders from all backgrounds to create solutions for the public good.
As one of the most research-intensive academic institutions in the nation, we are committed to the idea that technology, the science that supports it, the scholarship that guides it, and the leadership that deploys it can help us improve the human condition.
The Institute is guided by a set of core values that are reinforced through our culture. Students are our top priority. We strive for excellence, thrive on diversity, and celebrate collaboration. We champion innovation. We safeguard freedom of inquiry and expression, and nurture the well-being of our community. We act ethically and are responsible stewards.
We are focused on creating a better future by amplifying our impact, championing innovation, connecting globally, expanding access, cultivating well-being, and leading by example, including taking action to:
Generate talent, ideas, and solutions.
Create a culture of deliberate innovation.
Enhance economic opportunity.
Convene worldwide collaboration.
Empower people of all backgrounds.
Strengthen our culture of well-being.
Georgia Tech is committed to providing lifetime learning opportunities. For Georgians, that means:
K-12 STEM programs offered through the Center for Education Integrating Science, Mathematics and Computing (CEISMC), reaching more than 39,000 students, 1,700 teachers, and 200 schools in over 75 school districts throughout the state each year.
3,700 individual learners from Georgia who take our professional development courses each year.
The magnitude of the challenges and opportunities we face demands that we empower and include more people, backgrounds, and perspectives in the process of learning, discovery, and creation.
We are working to remove barriers of access for underrepresented students, champion lifelong learning, and recruit and retain a diverse faculty. As champions of innovation in our local economy, we will strive to help Atlanta and the global Georgia Tech community become examples of vibrant, inclusive entrepreneurship.
Georgia Tech offers a thriving campus life that has a growing focus on the whole person, including well-being and holistic learning, allowing all members of our community to grow and learn to lead healthy, purposeful, impactful lives.
Boilerplate Copy
The Georgia Institute of Technology is a top 10 public research university with nearly 40,000 students who study in person at the main campus in Atlanta, at Georgia Tech-Lorraine in France, at Georgia Tech-Shenzhen in China, as well as through distance and online learning.
Students represent 50 states and 149 countries. Its engineering and computing Colleges are the largest and among the highest-ranked in the nation, and the Institute also offers outstanding programs in business, design, liberal arts, and sciences. With more than $1 billion annually in research awards across all six Colleges and the Georgia Tech Research Institute (GTRI), Georgia Tech is among the nation's most research-intensive universities. It is an engine of economic development for the state of Georgia, the Southeast, and the nation.
Georgia Tech's mission is to develop leaders who advance technology and improve the human condition. Its mission and strategic plan are focused on making a positive impact in the lives of people everywhere. For more than 135 years, the people of Georgia Tech have dared to imagine and then create solutions for a better future. The innovative culture and leadership continue, for Progress and Service for all.
 
How to Use the Narrative, Messaging, and Boilerplate Copy
Think of the narrative (and the message house elements) as your elevator speech. As you would with an elevator speech, keep key elements of the message house top of mind to share anywhere, anytime about Georgia Tech so you're well equipped to educate others on what the Institute is all about.
Identify key messages that will resonate with your audience and use them to tell your unit's story and the Institute's story in an easy-to-digest manner.
Use the message house as a framework. Use as much from the message house as you can, but don't be boxed in by it; if there's an amazing story to tell that doesn't fit in perfectly, don't hesitate to still tell it.
When focusing on telling your story, focus on the unit first. When you can include the Institute, great!
When you can include the boilerplate, please do so. At the Institute level, we always will.
How to Use the Message House Template
 
Focus on the framework to tell stories that amplify the Institute's strategy and build its reputation.
 
Fill the rooms of the message house by planning unit-level content around the themes, and documenting the impact of your unit's stories with analytics.
Editorial Style
Georgia Tech's editorial standards are the rules regarding the mechanics of written communication. Application of these standards helps our large and diverse campus community present our brand in a consistent way.
The Institute Editorial Style Guide addresses some of the most frequently encountered style issues — most typically regarding capitalization, punctuation, and proper word usage — and provides guidance for instances when many possibilities exist. 
The style guide should be used as a reference for all written materials, although some variation in our established policy may be necessary (at the discretion of the author/editor).