The Georgia Tech brand manifests in print with striking images, dynamic forward-moving angles, and bold typography. Our printed materials often include these elements and treatments:
The use of bold and bright tertiary colors.
Human-focused photography.
Significant use of shapes in design, with greater emphasis on a softer humanistic approach, utilizing rounded edges and relying on more white space.
Large headings in brand typefaces DIN or Roboto.
Headings featuring typography of dramatically different sizes for contrast.
Hexagons and mosaic tiles as image frames or patterns.
On single pages and covers, the Georgia Tech logo can be found in the lower left or right corners, often framed by a rounded rectangular or diagonal banner.

Letterhead
Approved Georgia Tech letterhead, envelopes, mailing labels, and business cards are provided by Georgia Tech Printing and Copying Services (PCS). Paper is stocked and standardized for consistency, cost-effectiveness, and to support the Institute's sustainability goals.
 
PCS has print letterhead templates on file to customize for pre-printed stationery.
The Institute also offers a digital letterhead in Word format for everyday digital communications, which can be output to PDF for sharing, or submitting for digital signatures.  The letterhead includes the full name (extended) logo by default — the Institute logo can be swapped out with your department or unit logo.
Body Copy
The Institute does not have an official guidelines for which typography to use for the body of your letter. 
When you create a new blank document, any text you type appears in the default font, which is called Calibri, at a font size of 11 points, which is a standard size for text in everyday documents (such as letters or reports).
Footer
The footer information should be edited to include your unit or department name and information, including the correct address and 9-digit zip code. The USG/EEO statement is required to remain at the bottom of the first page footer.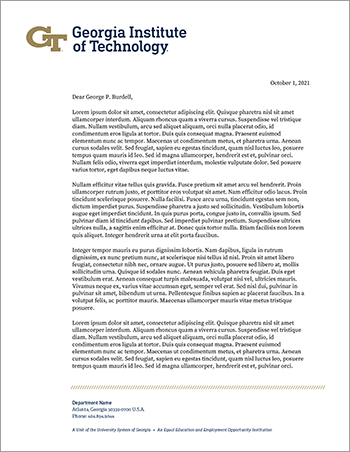 Pocket Folders
Pocket folders are commonly ordered at 9" x 12" finished size. Institute Communications offers campus users an Adobe InDesign print template with two sample layouts:
Version 1: With Key Photo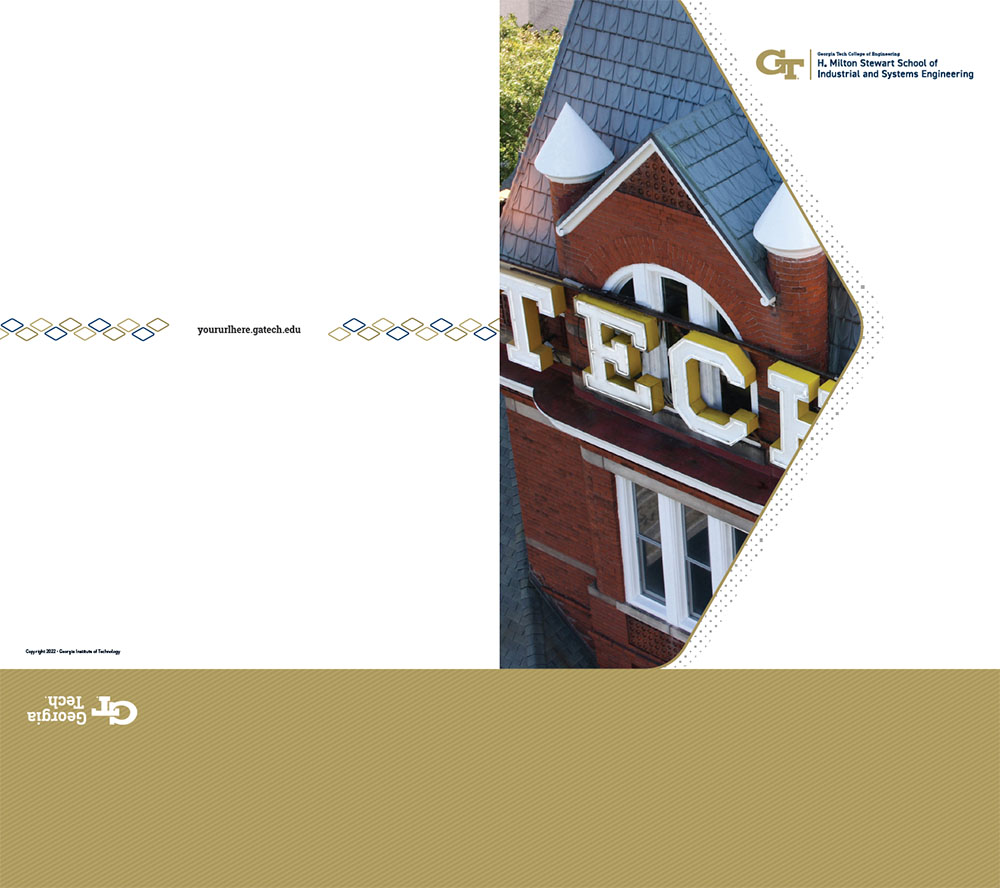 Version 2: Without Key Photo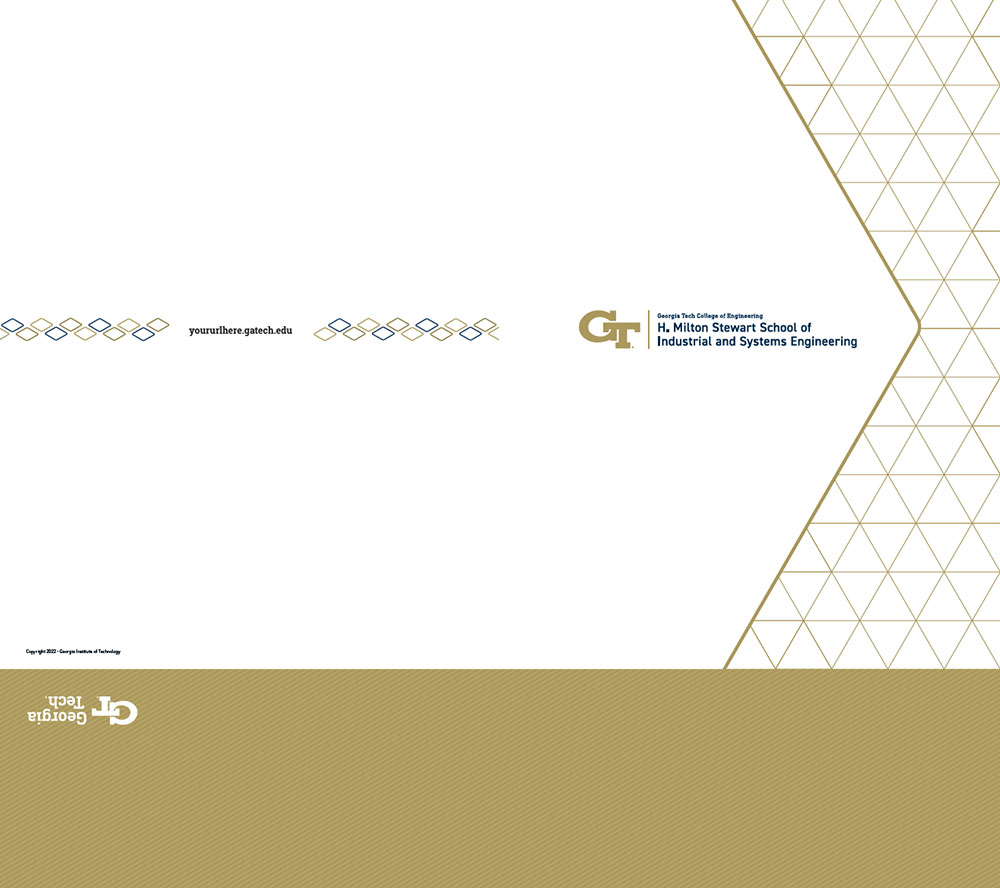 Guidelines
Units with design resources are permitted to further customize the folder layout within the overall visual identity standards.
The logo for the H. Milton Stewart School of Industrial and Systems Engineering is included as an example for placement. Replace it with the CMYK version of your unit logo or a primary Georgia Tech logo.
For the folder option with a photo, choose high-resolution, brand-aligned campus images that fit in the available space and represent your unit's work or activity. See the Institute Communications website for more guidance on photography.
Order Stationery, memo pads, envelopes, etc.

Georgia Tech's Printing and Copying Services (PCS) provides business cards, letterhead, envelopes, and memo pads printed in one or two colors, conforming to Institute brand standards.

Download Digital Letterhead

Asset downloads require a Georgia Tech login.

Download Pocket Folder Template

Asset downloads require a Georgia Tech login.