The Georgia Tech brand manifests in print with striking images, dynamic forward-moving angles, and bold typography. Our printed materials often include these elements and treatments:
The use of bold and bright tertiary colors.
Human-focused photography.
Significant use of shapes in design, with greater emphasis on a softer humanistic approach, utilizing rounded edges and relying on more white space.
Large headings in brand typefaces DIN or Roboto.
Headings featuring typography of dramatically different sizes for contrast.
Hexagons and mosaic tiles as image frames or patterns.
On single pages and covers, the Georgia Tech logo can be found in the lower left or right corners, often framed by a rounded rectangular or diagonal banner.
Stationery
Approved Georgia Tech letterhead, envelopes, mailing labels, and business cards are provided by Georgia Tech Printing and Copying Services (PCS). Paper is stocked and standardized for consistency, cost-effectiveness, and to support the Institute's sustainability goals.
 
Business Cards
Official Georgia Tech business cards are meant to represent an employee's role at the Institute, and typically include:
Name
Pronouns (optional)
Title
Department/Branch/Division
Business phone numbers
Email address
Website
Layout Options
A.    (Preferred/default) Extended logo: Georgia Institute of Technology
B.    Seal with extended logo: Specific to executives, academic leaders.
C.    (Preferred) Primary logo: Georgia Tech
D.    Unit logo: Using the logo for your department/unit name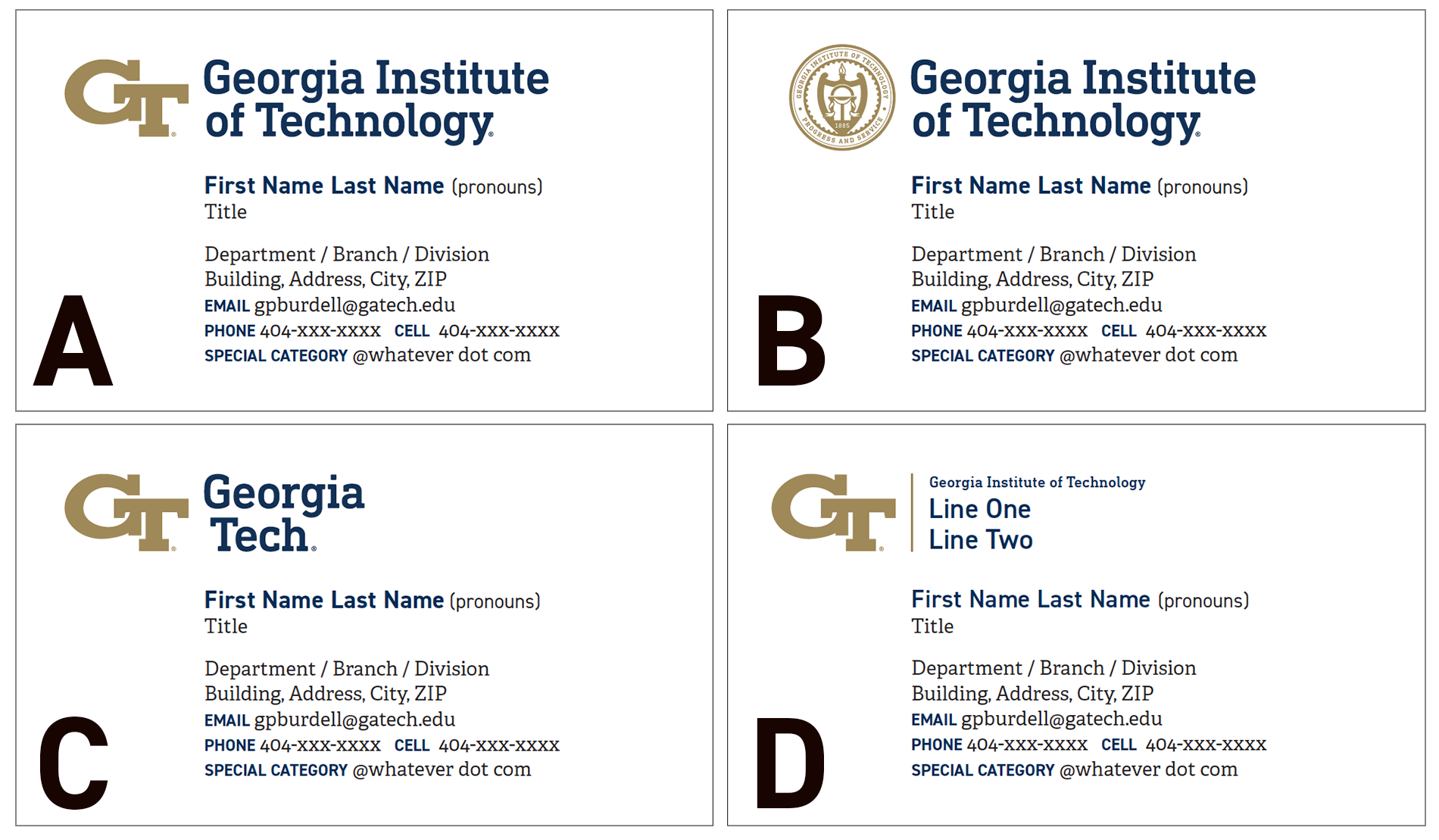 Guidelines
Multiple Phone Numbers 

Available space will dictate how many of these contact points will be included on the card.

Personal Information

Business cards should not include personal contact information such as personal email addresses, or weblinks.
Exceptions are non-Institute mobile or home numbers for employees who wish to be contacted that way for business purposes, and social media accounts used for professional or academic communications.

Multiple Titles

If multiple titles easily fit into an existing template, then they may be used.
If multiple titles cannot easily fit into the desired template, the employee will have to decide which titles are most useful.

Joint Appointments

Some Georgia Tech faculty and staff may also work for another institution. To accommodate these cases, a card may contain standard Georgia Tech information on one side, and a card design from the other institution on the other side.
Not all partnership institutions allow this arrangement, so the employee may not be able to have a two-sided card. 
It is not unusual for Georgia Tech professors involved in a joint program to wish to use their Georgia Tech title for both institutions. Often, the faculty member is technically an adjunct at the other institution, and that institution may frown upon using anything but the adjunct designation on their side of the card — if they grant permission for a two-sided card at all.

Joint Departments

The Wallace H. Coulter Department of Biomedical Engineering is currently the only jointly operated unit.
Faculty and staff employed by Georgia Tech working within this department may have a Georgia Tech business card or a Wallace H. Coulter Department of Biomedical Engineering business card.
Cards featuring Georgia Tech or Emory University business card formats on one side and the Coulter Department of Biomedical Engineering format on the other side are not permitted.
Affiliations other than Georgia Tech or Emory would be permitted on the second side with permission from the affiliated entity.

Foreign Language Translation

When needed, these should appear on the obverse of the card with no graphic formatting.

Student Business Cards

Students are allowed to have business cards displaying the Georgia Tech logo or affiliated unit combination logo.
The card must clearly indicate the student status of the cardholder (Class of XXXX, Ph.D. Candidate, etc.).
In cases where a student is also an employee of Georgia Tech and is either conveying their job title, work contact information, or otherwise representing their employment with the Institute, the business card design and printing is subject to departmental review or procedures.
Letterhead
Printing & Copying Services (PCS) has print letterhead templates on file to customize for pre-printed stationery.
The Institute also offers a digital letterhead in Word format for everyday digital communications, which can be output to PDF for sharing, or submitting for digital signatures.  The letterhead includes the full name (extended) logo by default — the Institute logo can be swapped out with your department or unit logo.
The footer information should be edited to include your unit or department name and information, including the correct address and 9-digit zip code. The USG/EEO statement is required to remain at the bottom of the first page footer.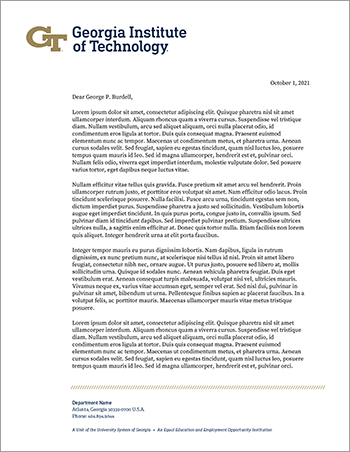 Pocket Folders
Pocket folders are commonly ordered at 9" x 12" finished size. Institute Communications offers campus users an Adobe InDesign print template with two sample layouts:
Version 1: With Key Photo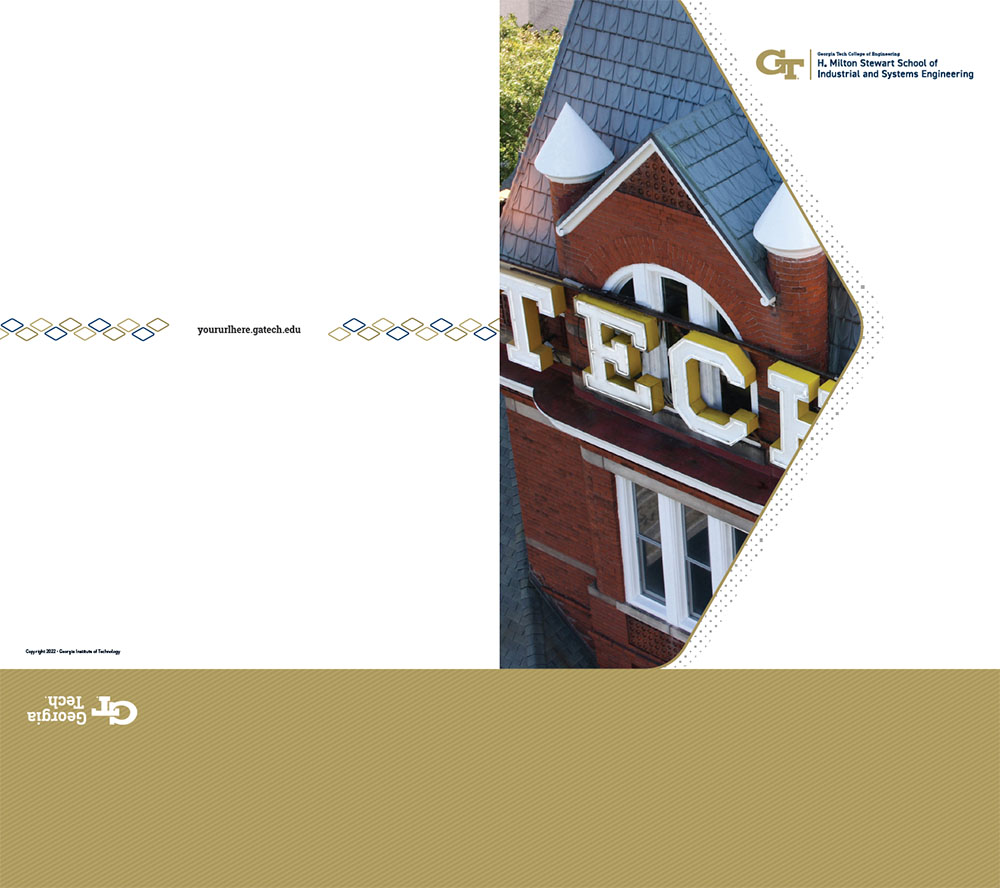 Version 2: Without Key Photo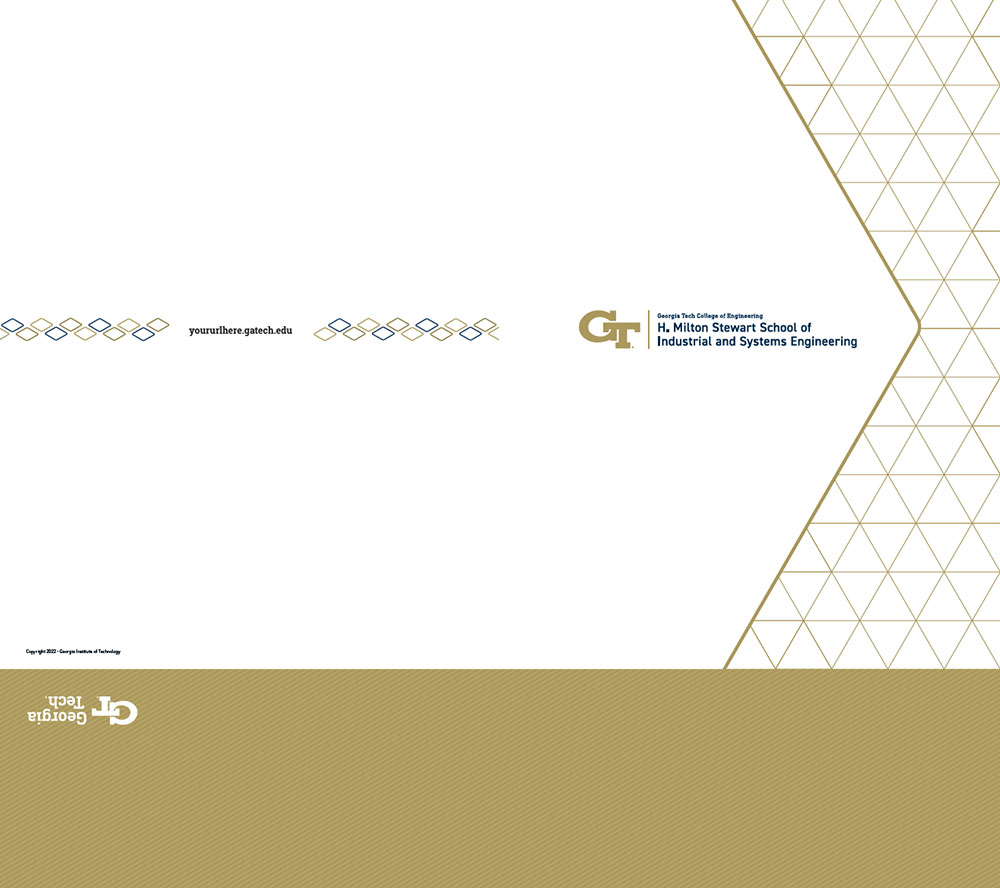 Guidelines
Units with design resources are permitted to further customize the folder layout within the overall visual identity standards.
The logo for the H. Milton Stewart School of Industrial and Systems Engineering is included as an example for placement. Replace it with the CMYK version of your unit logo or a primary Georgia Tech logo.
For the folder option with a photo, choose high-resolution, brand-aligned campus images that fit in the available space and represent your unit's work or activity. See the Institute Communications website for more guidance on photography.
Order Business Cards, Stationery, etc.

Georgia Tech's Printing and Copying Services (PCS) provides business cards, letterheads, envelopes, and memo pads printed in one or two colors, conforming to Institute brand standards.

Download Digital Letterhead

Asset downloads require a Georgia Tech login.

Download Pocket Folder Template

Asset downloads require a Georgia Tech login.