Spirit marks are registered trademarks, including the Ramblin' Wreck and Buzz, that represent Georgia Tech's traditions and Institute spirit.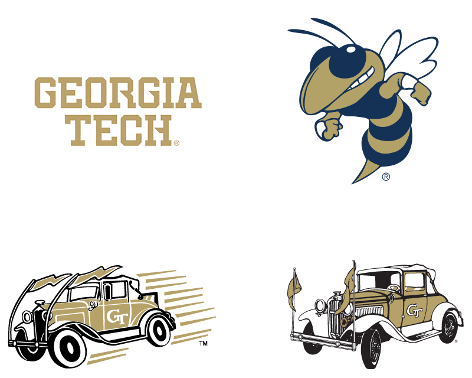 Spirit Mark Usage Standards
The Athletics wordmark and spirit marks are registered trademarks that require prior approval from the Licensing and Trademarks office before use.
Spirit marks may be used to promote sports and recreational activities on campus and encourage Institute pride or school spirit.
Spirit marks should not be juxtaposed with or replace the interlocking GT in the primary or extended logo.
The Georgia Tech Athletics wordmark is exclusive to the Georgia Tech Athletics Association and its programs.
The Buzz spirit mark must be in Tech Gold (PMS 4515) when used with the Interlocking GT, primary marks, extended marks, or unit marks.
The Buzz spirit mark can be in Tech Gold (PMS 4515) or Buzz Gold (PMS 124) if used alone, with no other trademarks.
The Institute's vintage logos and word marks are not permitted for internal use (Solo T, Classic Yellow Jacket Buzz, Techie Buzz, The Golden Tornadoes). These marks are not intended to be used in place of the current marks. The Institute licenses these marks through a restricted program titled "College Vault" in retail. The program is restricted to a limited number of licensees who are only permitted to distribute the product into specific retail channels.
For information on licensing and use on merchandise, visit Licensing and Trademarks.
May Use Spirit Marks
Georgia Tech Athletics Association, its entities, and sponsors.
Internal promotions targeting current students.
Internal communications channels within campus units.
External communications or promotions targeting potential undergraduate students.
Registered student organizations (RSOs) and departmental registered student organizations (DRSOs).
May NOT Use Spirit Marks:
External-facing academic or research communications.
Institute websites (including Colleges, Schools, centers, and labs).
Signs and wayfinding applications.
Instances with other trademarks.
Cases where prior written permission from Georgia Tech Institute Communications has not been obtained.
Buzz Mascot Appearances
In addition to Georgia Tech athletics events, Buzz attends events on and off campus, including engagement events, alumni galas, corporate mixers, and charity events.
Buzz appearances are managed out of the Athletics department. See: Buzz Appearance Request Form
Questions about Spirit Marks?