Business Cards
Approved Georgia Tech business cards are provided by Georgia Tech Printing and Copying Services (PCS). Paper is stocked and standardized for consistency, cost-effectiveness, and to support the Institute's sustainability goals.
Official Georgia Tech business cards are meant to represent an employee's role at the Institute, and typically include:
Name
Pronouns (optional)
Title
Department/Branch/Division
Business phone numbers
Email address
Website
Layout Options
A.    (Preferred/default) Extended logo: Georgia Institute of Technology
B.    Seal with extended logo: Specific to executives, academic leaders.
C.    (Preferred) Primary logo: Georgia Tech
D.    Unit logo: Using the logo for your department/unit name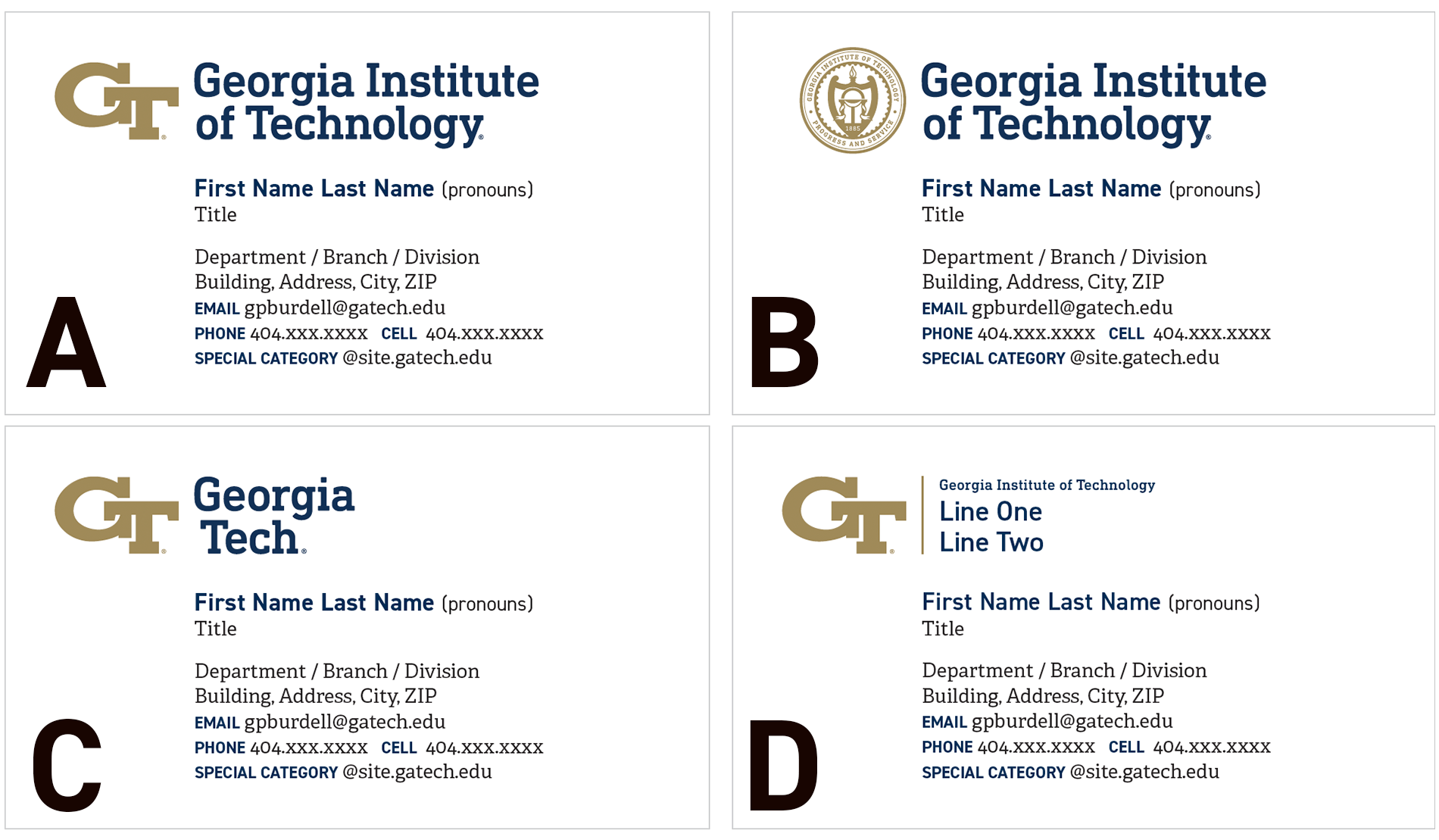 Guidelines
Multiple Phone Numbers 

Available space will dictate how many of these contact points will be included on the card.

Personal Information

Business cards should not include personal contact information such as personal email addresses, or weblinks.
Exceptions are non-Institute mobile or home numbers for employees who wish to be contacted that way for business purposes. 

Multiple Titles

If multiple titles easily fit into an existing template, then they may be used.
If multiple titles cannot easily fit into the desired template, the employee will have to decide which titles are most useful.

Social Media

Personal/individual social media accounts used for professional or academic communications may be cited on business cards.

Joint Departments

The Wallace H. Coulter Department of Biomedical Engineering is currently the only jointly operated unit.
Faculty and staff employed by Georgia Tech working within this department may have a Georgia Tech business card or a Wallace H. Coulter Department of Biomedical Engineering business card.
Cards featuring Georgia Tech or Emory University business card formats on one side and the Coulter Department of Biomedical Engineering format on the other side are not permitted.

2-sided Cards

Dual-sided business cards are not common. Programs also required to meet the standards of a federal agency or sponsorship requirements should contact a communications consultant to discuss parameters.

Multiple Languages

When needed, coordinate language-based card variants with Printing & Copying Services. Translations and typefaces must be provided by the campus unit.

Student Business Cards

Students are allowed to have business cards displaying the Georgia Tech logo or affiliated unit combination logo.
The card must clearly indicate the student status of the cardholder (Class of XXXX, Ph.D. Candidate, etc.).
In cases where a student is also an employee of Georgia Tech and is either conveying their job title, work contact information, or otherwise representing their employment with the Institute, the business card design and printing is subject to departmental review or procedures.
Students enrolled a joint degree program may not have custom business cards with logos for both institutions, nor double-sided cards. In these cases, personal business cards that do not carry either institution's marks may cite the student's status in text.
Order Business Cards
Georgia Tech's Printing and Copying Services (PCS) provides business cards in one or two colors, conforming to Institute brand standards.
Name Tags
Name tags can be output in any format that aligns with brand standards. Institute Communications offers the following examples for reference in scale, spacing, and consistent type. The examples below include references to short and long unit names to identify the person.
Using the Interlocking GT trademark alone is acceptable for a nametag.
Omitting the unit name and including only the person's name is acceptable.
For embossed or etched applications only, the logo may appear in black.
All campus units and groups must use a licensed vendor to produce any merchandise or apparel with the Georgia Tech name and/or trademarks.